Jubilee Electronics installs Bespoke Cooling Tower Wind Speed Monitoring System
Member News
Jubilee Electronics is one of the UK's foremost designers and manufacturers of specialist electronic systems for industrial applications located in extreme or challenging environments.
The company has over 40 years of experience servicing industries as diverse as power generation, automotive manufacturing, oil exploration, HVAC and security. Today, many of its customers are blue-chip and multinational brands which don't have the internal expertise to design such specialist solutions.
David Valentine, who heads up hardware design for Jubilee, spoke to us saying that, "A lot of our clients are experienced manufacturers or systems installers in their own right. They'll approach us with theoretical ideas of the system that they need, but they won't have the knowledge or practical experience to turn it into reality. For example, a lot of the systems that we design carry out a fairly standard function, but must also cope with extreme temperatures, heavy vibration, shock loads and extended life requirements."
An example of this approach was in a recent project for a bespoke wind speed and direction monitoring system, to be mounted on top of a power station cooling tower that measures at 150 Metres high. The system, which you can see below, also featured a local power generation system - via a wind turbine and solar panels - and a custom-designed secure wireless data communications link a with a range of 500 Plus Metres back to a base station, processing and relaying data from the unit, and interfacing with the clients internal SCADA systems.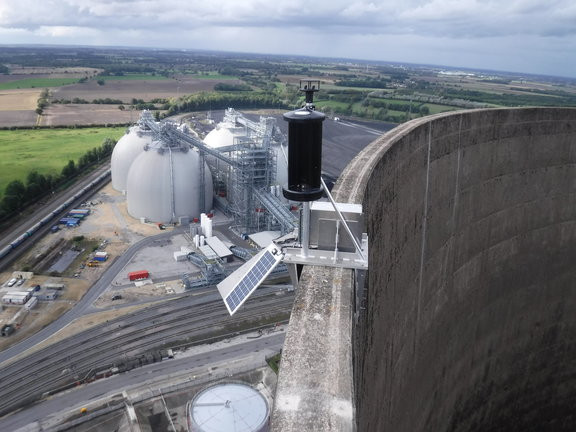 As David explains, "The design, development and manufacture stages of the project had to be carefully considered and discussed with our client, as the system will be permanently exposed to the elements, in an extremely remote location. In addition, the cost of gaining access to the equipment at the top of the cooling tower, for maintenance, would far exceed the cost of the original system, meaning that our solution needed to be fit-and-forget, with extended life requirements designed in from the outset".
The system is now successfully installed and commissioned, and Jubilee Electronics client is using data acquired from the system for integration into their plant systems and models.
If you have any specialist electronics design, development, or manufacturing requirements, please do not hesitate to contact Jubilee Electronics at [email protected]